Pens and Pencils
Turn of the Century wooden pens and pencils are each individually freehand crafted of the finest hardwoods by William Schmidt. They are both decorative and highly functional.

They are made of hard, high quality exotic woods both for lasting strength and beauty.
"Executive" Ballpoint Pens
The Executive ballpoint pen is uniquely turned desk pen designed for ease of writing as well as for appearance. It features one of the finest, most durable and long lasting refills available: the pressurized Fisher Space Pen (The one that writes upside down). The pen is also designed to accept the more readily available Cross, Parker and Pentech refills. The pens are about 7" long.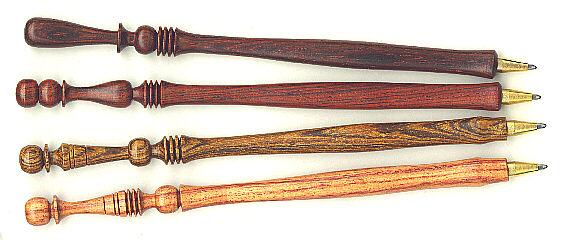 The gold plated brass tip is designed by, and made solely for Turn of the Century pens. Each pen includes a card explaining how to refill the pen and where to obtain the Space Pen refills. For refill instructions: Refilling

Pick the individual Executive Pen you want from the Executive Pen Gallery
There are also thicker Exec Pens for those who prefer them. They are pictured below the thinner ones on the Gallery page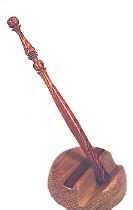 Executive Pen Set
Executive Pen held in 3 inch turned native wood
oak, cherry or walnut base (specify preference) with
exotic wood inlay strip to match the pen.
A welcome addition to the desk of any executive,
student, friend, deserving volunteer or
for the person who pays the bills!






Calligraphy Pens
A favorite of calligraphers for many years, Turn of the Century Calligraphy pens are designed to accept the popular Speedball nibs, or any nib with a similar thickness and curvature. A unique rosewood spring holds the writing nib firmly in place. Calligraphy pens are about 7" long.


Each calligraphy pen comes with a traditional steel writing tip. We trust you already have your favorite calligraphy nibs.

Pick the individual Pen you want from the Calligraphy Pen Gallery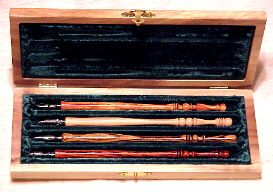 Boxed Sets: Set of four calligraphy pens
in a velvet lined box of walnut or cherry.
The velvet is hunter green
(Specify wood preferences).
Cost of the case with four calligraphy pens is $93.00 ($97 set starting Feb 15)
Pens are in a variety of woods, or you can pick the ones you want from the Gallery Page .
Mechanical Pencils:
Turn of the Century Mechanical Pencils are one of our most uncharacteristic items. In reality, they are the durable Pentel P-205 and P-207 "clicker" style drafting pencils with the plastic barrel replaced by one of exotic wood.


Choice of either tapered or flared grip area. Available for either .5mm or .7mm leads with chromed metal parts. Please specify preferences.
Pick the individual Pencil you want from the Mechanical Pencil Gallery
PRICES:
Executive Pens: $17.00 each
Executive Pen Set $26.00 each
Calligraphy Pens: $16.00 each
Calligraphy Boxed Sets: $97.00 set
Mechanical Pencils: $15.00 each
Refills: Pressurized Fisher Space Pen refills $7.00 each


SHIPPING AND HANDLING: (Priority mail - domestic) $7.00 per entire Turn of the Century order.
Orders shipped within 1-2 days of receipt of payment.

Please send your complete mailing address and a day or night phone or e-mail, and...
Payment by check or money order to:

Turn of the Century
1676 Millsboro Road
Mansfield, OH 44906-3374
Phone 419/529-8876

-- For those using Paypal: Use the Paypal click logo at the bottom of the TC home page.
(Paypal ID: -- Bill@Turn-of-the-Century.com -- should fill in automatically.)

For more information on ordering, shipping and payment, see the Ordering Info Page


To e-mail us: Bill@Turn-of-the-Century.com


Crochet Hooks * Knitting Needles * Sizing Chart
Rug Hooks * Embroidery Tools * Odds 'n' Ends
Hairsticks & Earrings * Writing Instruments
Links Page
"Who We Are" Page
Turn of the Century Home Page
Site Map and List of Gallery Pages


All Turn of the Century designs &copy copyright William Schmidt, Turn of the Century