Embroidery Tools:
Turn of the Century handmade, wooden embroidery tools are individually made of the finest hardwoods by William Schmidt.
Laying tools: Used to remove the twist from embroidery floss, both in preparation and during the embroidery process. Similar to hairsticks, but with a smoother, more accurately defined curve.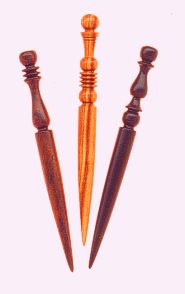 Laying Tools are 5 to 6 inches long.
Laying Tool Gallery,
Pick your laying tool or embroidery punch
Embroidery punches: Similar to the antique ivory or bone punches used to open holes in fabric for subsequent embroidering. This can often be found on antique linen table napkins.
Embroidery punches are currently very popular as small laying tools. They are about 2-3/4 inches long and slightly less than 1/4 inch diameter.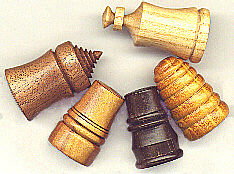 Thimbles: For the collector and sewing advocate. Made of native or exotic hardwoods. Functional thimbles have a lightly domed grooved end to keep needles from slipping off. On decorative thimbles anything goes! Available in four sizes: small (size 4), medium (size 6), large (size 8), and extra large (size 10).

Darning eggs: Who amongst us had not heard tales of "the good old days" when "we didn't throw things away, we fixed 'em"! They didn't tell you about the about the lumpy socks that had been "fixed"! Socks are one of the more beneficial disposables of modern times. We collect darning eggs just to "have them". It's a feel-good thing! Even so, Turn of the Century darning eggs have a hard maple "egg" and an ornate handle of Wild Cherry or Black Walnut. They are functional.
PRICES:
Laying Tools: $8.00 each
Embroidery Punches: $5.00 each
Thimbles: $6.00 each - (specify functional or non-functional)
Darning eggs: $16.00 each - (specify cherry or walnut handle)

SHIPPING AND HANDLING: (Priority mail - domestic) $7.00 per entire Turn of the Century order
Please specify light or dark wood preferences and size where applicable.
Orders shipped within 1-2 days of receipt of payment.

Please send your complete mailing address and a day or night phone or e-mail, and...
Payment by check or money order to:

Turn of the Century
1676 Millsboro Road
Mansfield, OH 44906-3374
Phone 419/529-8876

-- For those using Paypal: Use the Paypal click logo at the bottom of the TC home page.
(Paypal ID: -- Bill@Turn-of-the-Century.com -- should fill in automatically.)

For more information on ordering, shipping and payment, see the Ordering Info Page


To e-mail us: Bill@Turn-of-the-Century.com
(If you have gmail, BE SURE to include your phone. Gmail throws my emails into your "spam" folder.)


Crochet Hooks * Knitting Needles * Sizing Chart
Rug Hooks * Embroidery Tools * Odds 'n' Ends
Hairsticks & Earrings * Writing Instruments
Links Page
"Who We Are" Page
Turn of the Century Home Page
Site Map and List of Gallery Pages


All Turn of the Century designs &copy copyright William Schmidt, Turn of the Century