Oblique Pens
Oblique pens are a fairly specialized form of calligraphy pen. The nib is held at an angle which gives a greater flexibility in writing more fluid texts and drawing. Whereas calligraphy pens often depend on specially shaped nibs for broader and narrower lines, oblique pens depend on downward pressure and very flexible nibs for the width of the line. It takes considerably more instruction and practice to use them well.


As such, even though I have made them since 1994, I have not, until now, put them on the website. I had sold them exclusively through a couple of calligraphy catalog supply houses who, when giving credit at all, have labeled them as "Century" pens rather than "Turn of the Century". That was OK with me, until now.
Recently a Chinese company has begun mass machine producing oblique pens directly copied from my designs - without either permission or notification. Because of the very low price of mass produced (and Chinese produced) goods, the catalogs have had to switch to these copies and they have been showing up on eBay and other on-line sources - even a plastic version. I make no claim to oblique pens themselves, but the Turn of the Century design style is my own creation.


Rest assured, however, that EVERY item on this page and website, has been individually freehand turned by me, William Schmidt, with a design style that I have evolved over several years, and have used for well over 30 years.

The clips are made of .010 inch thick brass and can easily be adjusted for nibs of different curvatures, and for different nib angles. They have slightly belled opening to aid in inserting the nib without removing the clip from the pen.
They are made of very hard exotic woods. The exception is the Osage Orange - one of the hardest domestic woods.

To request a specific pen, specify the pen number and wood (eg. #2 cocobolo).
The number on the wood list corresponds to the number beside the pen on the picture.
There is a link to an email form below all the pictures, right above the word "Prices".
We will reply confirming that we have the pen(s) and confirming the final cost.


We will hold pens on reserve for one week maximum pending payment.

In stock now:
Reserved and sold pens will be marked as SOLD beside or beneath the wood identification. (updated 8/2/2023)
Please, DO NOT request pens that have been labeled as SOLD .

Oblique Pens

The pens in the top picture are the "regular" Turn of the Century oblique pens. Though the grip area varies in thickness, they are made from stock that is about 1/2 inch in thickness or less. (Consider your preference in grip thickness when selecting.)
The bottom picture has slightly thicker pens, based on 5/8 inch thick stock.
The wood on most of the pens is about 7 inches long.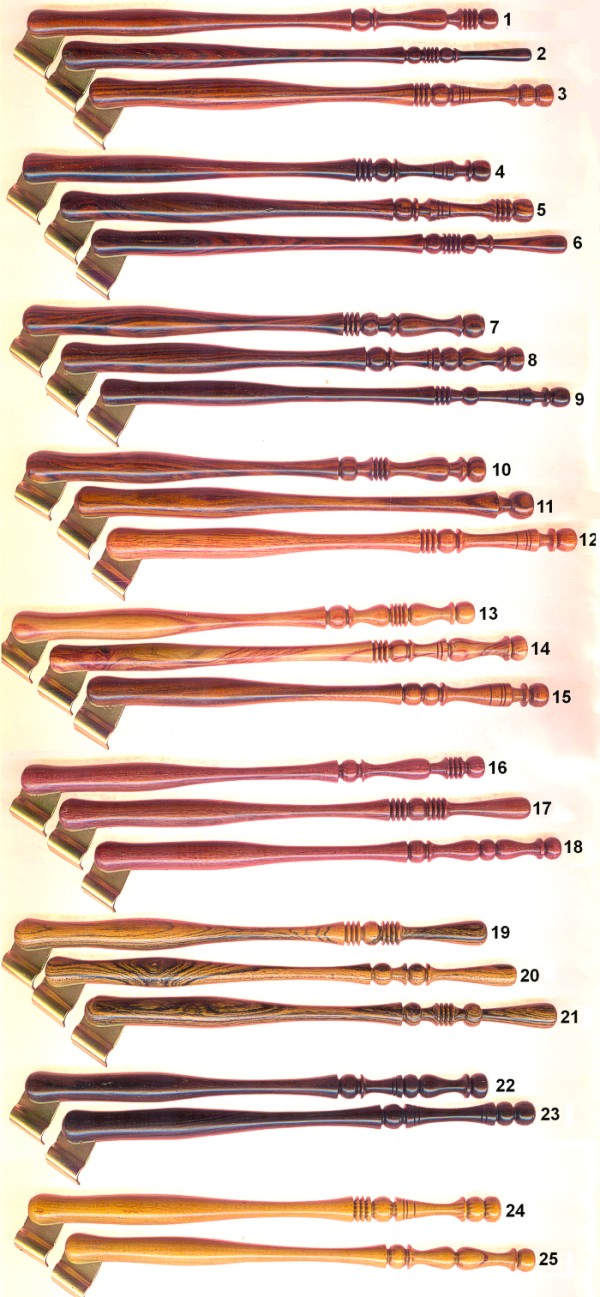 Wood List
1. Cocobolo

2. Cocobolo

3. Cocobolo

4. Cocobolo

5. Cocobolo

6. Cocobolo

7. Cocobolo

8. Cocobolo

9. Cocobolo

10. Cocobolo

11. Cocobolo

12. Brazilian Tulipwood

13. Brazilian Tulipwood

14. Brazilian Tulipwood - SOLD


15. Anjico

16. Purpleheart

17. Purpleheart

18. Purpleheart - SOLD

19. Bocote

20. Bocote

21. Bocote

22. Brazilian Rosewood

23. Brazilian Rosewood

24. Osage Orange

25. Osage Orange - SOLD

Thick Oblique Pens
These pens are made from thicker stock and thus have a thicker grip area.
Many calligraphers find them less fatiguing.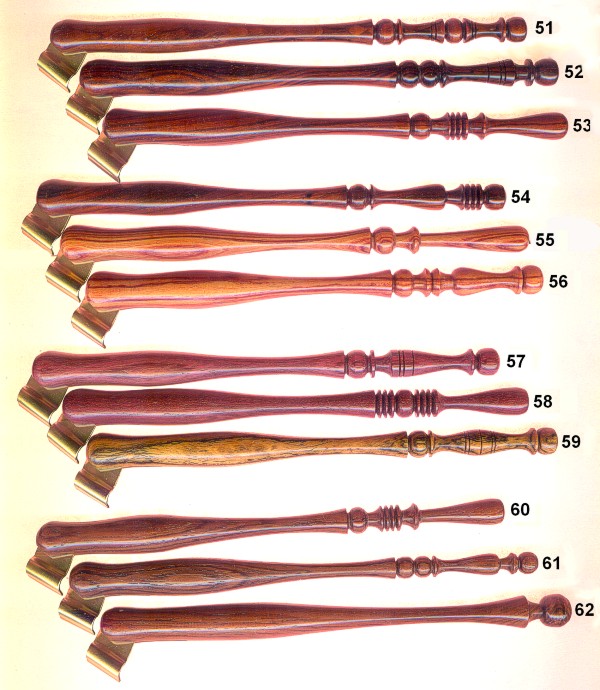 Wood List
51. Cocobolo - SOLD

52. Cocobolo

53. Cocobolo - SOLD

54. Cocobolo

55. Brazilian Tulipwood - SOLD

56. Brazilian Tulipwood - SOLD

57. Purpleheart

58. Purpleheart


59. Bocote - SOLD

60. Honduras Rosewood

61. Honduras Rosewood

62. Honduras Rosewood

Please e-mail to check availability before ordering: Bill@Turn-of-the-Century.com
(If you use gmail, please include your phone number. Gmail sends my replies to your spam folder.)
Prices:
Oblique Pens: $20.00 each
Shipping and handling: (Priority mail - domestic) $7.00 per entire Turn of the Century order

Please send your complete mailing address and a day or night phone or e-mail, and...
Payment by check or money order to:

Turn of the Century
1676 Millsboro Road
Mansfield, OH 44906-3374
Phone 419/529-8876

-- For those using Paypal: Use the Paypal click logo at the bottom of the TC home page.
(Paypal ID: -- Bill@Turn-of-the-Century.com -- should fill in automatically.)

For more information on ordering, shipping and payment, see the Ordering Info Page


Main Pen Page
Turn of the Century Home Page

All Turn of the Century designs &copy copyright William Schmidt, Turn of the Century