Executive Ball Point Pen Gallery
To request a specific pen, specify the pen number and wood (eg. EX#2 cocobolo).
We will hold pens on reserve for one week maximum pending payment.
For refill instructions: Refilling
In stock now:
Reserved and sold pens will be marked as SOLD beside or beneath the wood identification. (updated 10/17/2023)
Please, DO NOT request pens that have been labeled as SOLD.
Executive Ball Point Pens
NOTE: The "-G" after the wood indicates that the pen tip is gold plated, "C" means it is chromed.
These are the LAST of this style of Executive Pen (these also take Parker as well as the Fisher Space Pen refills and Cross.)
I have REALLY run out of the tips for this style.
Any FUTURE pens will look the same but will NOT accept the Parker refills - only the Fisher and Cross.

ALSO - note that the pens at the bottom of the picture (#'s 40-46) have a higher handgrip - for those who like to hold their pens higher.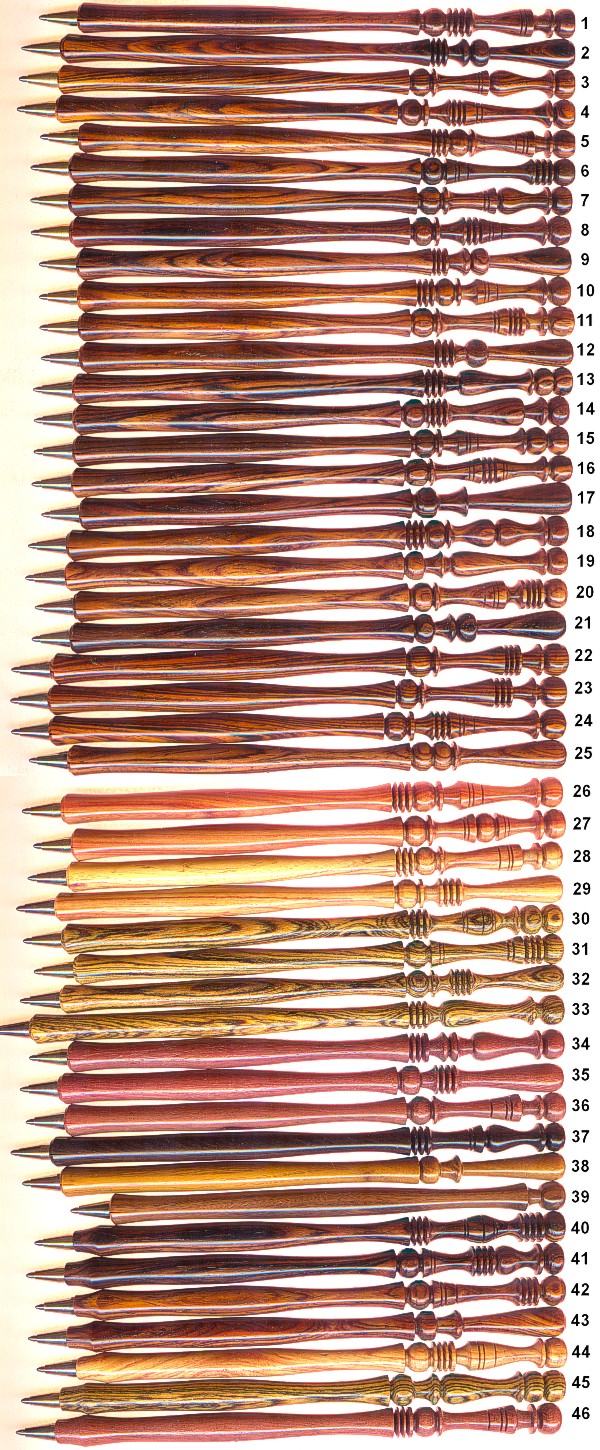 1. Cocobolo -G
2. Cocobolo -G - SOLD
3. Cocobolo -G
4. Cocobolo -G - SOLD
5. Cocobolo -G
6. Cocobolo -G - SOLD
7. Cocobolo -G - SOLD
8. Cocobolo -G - SOLD
9. Cocobolo -G - SOLD
10. Cocobolo -G - SOLD
11. Cocobolo -G
12. Cocobolo -G - SOLD
13. Cocobolo -G - SOLD
14. Cocobolo -G - SOLD
15. Cocobolo -G - SOLD
16. Cocobolo -G
17. Cocobolo -G - SOLD
18. Cocobolo -C - SOLD
19. Cocobolo -C
20. Cocobolo -C - SOLD
21. Cocobolo -C - SOLD
22. Cocobolo -C
23. Cocobolo -C
24. Cocobolo -C - SOLD
25. Cocobolo -C - SOLD

26. Brazilian Tulipwood -G - SOLD
27. Brazilian Tulipwood -G
28. Brazilian Tulipwood -C
29. Brazilian Tulipwood -C

30. Bocote -G - SOLD
31. Bocote -G
32. Bocote -C
33. Bocote -C


34. Purpleheart -G - SOLD
35. Purpleheart -C - SOLD
36. Purpleheart -C - SOLD


37. Brazilian Rosewood -G - SOLD
38. Osage Orange -G - SOLD
39. Caviuna Micarium -C
------------------------
40. Cocobolo -G - SOLD
41. Cocobolo -G
42. Cocobolo -C - SOLD
43. Cocobolo -C - SOLD
44. Brazilian Tulipwood -C - SOLD
45. Bocote -G - SOLD
46. Puepleheart -C

Please e-mail to check availability before ordering: Bill@Turn-of-the-Century.com
(If you have gmail, BE SURE to include your phone. Gmail throws my emails into your "spam" folder.)

Prices:
Executive Pens: $17.00 each
Shipping and handling: (Priority mail - domestic) $7.00 per entire Turn of the Century order

Please send your complete mailing address and a day or night phone or e-mail, and...
Payment by check or money order to:

Turn of the Century
1676 Millsboro Road
Mansfield, OH 44906-3374
Phone 419/529-8876

-- For those using Paypal: Use the Paypal click logo at the bottom of the TC home page.
(Paypal ID: -- Bill@Turn-of-the-Century.com -- should fill in automatically.)

For more information on ordering, shipping and payment, see the Ordering Info Page


Main Pen Page
Turn of the Century Home Page

All Turn of the Century designs &copy copyright William Schmidt, Turn of the Century