Crochet hooks
Both decorative and functional, Turn of the Century wooden crochet hooks are each individually freehand crafted by William Schmidt.

They are made of hard, high quality exotic woods both for strength and beauty.

The hook portion is finely sculpted to a form designed through two years of customer testing and input. The deep rounded gullet and gentle curves are designed for smooth operation. This differentiates it from many handmade and commercial hooks that are simply slotted. The handles are kept thin, making them lighter in weight than many other handmade hooks.
Wood crochet hooks have a different feel. They are not as slippery as metal, and more slippery than plastic. This, along with their appearance and hook design, has made them a favored hook of many crocheters for nearly four decades.
The design work is Bill's signature style, which he has evolved over 40 years of professional turning and literally tens of thousands of crochet hooks and other items.

Caution: Though made of very hard strong woods and designed for years of use, wood hooks are not as strong as plastic or metal. They should be used for nonmetallic yarn only, and should not be used for other purposes, such as prying things open. Also, if you grip so tightly that you bend your metal hooks with use, these might not be for you.

Hook Sizes range from "F" through "K", and the larger "N" through "S" and "U", measured according to "Boye" sizing. They are about 7.5" long.
When ordering, specify size desired and light or dark wood preferences..... OR.....

Hook Gallery: You may also pick the individual crochet hook you want from our Crochet Hook Gallery, where there are pictures of the individual hooks for sale. What you see is what you get. When one is sold, it is gone!

Big Hooks larger than Boye "K" are now available due to many requests. These large hooks are made of native hardwoods rather than exotics because of less need for strength and because of the weight and cost of the exotics. Go to the Rug Hook Gallery Page for sizes N, P, Q & S, plus a 9mm and a mid-range 13mm - about 1/2 inch. This page will take time to load. There are about 300 hooks pictured.

Sizing equivilents: Sizing of crochet hooks and knitting needles is based on 1/4 millimeter increments. Both Boye and Bates use a similar standard for Knitting Needles, but vary on Crochet Hook sizes. For your clarification (perhaps confusion), we have provided a Sizing Chart. Only the sizes marked with an "*" are available from Turn of the Century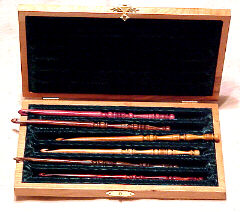 Boxed Sets: Set of six hooks in a velvet lined box of walnut,
cherry (pictured) , ash or oak . The velvet lining is forest green
(Specify wood preference).
Hooks are Boye sizes F-K in a variety of woods.
Prices below.
Please e-mail to check availability before ordering
(Individual cases of Walnut, Cherry, Ash, Oak and several other woods are pictured on the "Hook Set Gallery" page.)

Double Ended Hooks: Often called "Cro Hooks". These are straight, smooth, accurately sized dowel made of Cocobolo Rosewood with a finely made crochet hook cut in each end. The hooks are in opposing directions.



Turn of the Century Double ended hooks are available in Boye sizes G-N (see Sizing Chart) and in 10", 12" and 14" lengths. They are ideal for the person who wants a fine wood double ended hook. (Not available in boxed sets.)
Gauges: Maple with cherry or walnut end caps to measure crochet hooks and knitting needles.
It has four scales: One scale is for Boye hooks and one for Bates crochet hooks;

a scale for metric knitting needles (both Boye & Bates), and a scale for measuring in millimeters directly. It will permit measurement of "in between" sized hooks and needles as well as commercial sizes.
OTHER STUFF
Shawl Pins: These are 4 inch long hairsticks that are also used as shawl pins.
Knitting Needles: Highly functional needles for the avid knitter. We have made these quality needles for over 25 years.
Tunisian (Afghan) Hooks: Like a knitting needle with a crochet hook tip on one end. On the "Odds 'n' Ends" Page
Nalbinding and Plarn Needles: Short, thick wood needles with large eyes and rounded points. These needles can be used for many strands of yarn, yarn made of rag strips and yarn made from plastic strips, such as plastic bags. Also on the "Odds 'n' Ends" Page.

Prices:

Don't forget Shipping and Handling fee


Individual crochet hooks : Sizes F-S $16.00 each. Size "U" $19.00 each


Please specify sizes and preferences of light or dark wood.
If picking from the hook galleries, specify size, number and wood.


Double ended crochet hooks: priced by length:


14 inches long, $18.00 each
12 inches long, $17.00 each
10 inches long, $16.00 each
Be sure to specify both size and length


Gauges: $10.00 each


Boxed Sets: $143.00 each -- $151.00 with gauge


Please check availability before ordering.

Remember to specify walnut, cherry, oak or ash case - or (preferably) pick the individual case from
the Hook Set Gallery.
SHIPPING AND HANDLING FEE: (Priority mail - domestic) $7.00 per entire Turn of the Century order.
Orders shipped within 1-2 days of receipt of payment.

Please send your complete mailing address and a day or night phone or e-mail, and...
Payment by check or money order to:

Turn of the Century
1676 Millsboro Road
Mansfield, OH 44906-3374
Phone 419/529-8876

-- For those using Paypal: Use the Paypal click logo at the bottom of the TC home page.
(Paypal ID: -- Bill@Turn-of-the-Century.com -- should fill in automatically.)

For more information on ordering and shipping, see the Ordering Info Page


To e-mail us: Bill@Turn-of-the-Century.com
(If you have gmail, BE SURE to include your phone. Gmail throws my emails into your "spam" folder.)


Crochet Hooks * Knitting Needles * Sizing Chart
Rug Hooks * Embroidery Tools * Odds 'n' Ends
Hairsticks & Earrings * Writing Instruments
Links Page
"Who We Are" Page
Turn of the Century Home Page
Site Map and List of Gallery Pages


All Turn of the Century designs &copy copyright William Schmidt, Turn of the Century