Knitting Needles
Decorative and functional, Turn of the Century handmade wooden knitting needles are individually crafted by William Schmidt.
SIZES 6-11
Turn of the Century Rosewood Knitting Needles are of Cocobolo, a rosewood, in sizes 6-11 (4.25mm - 8mm). Cocobolo provides strength and durability as well as a smooth working surface. Many knitters prefer the wooden needles to either metal or plastic.




Needles are available in 10, 12, and 14 inch lengths. They are fashioned of precisely dimensioned rosewood shafts topped with individually turned rosewood caps. End cap designs will vary. The decorative caps are made short to avoid excessive weight and maintain balance.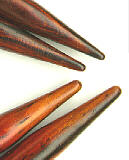 The tips are individually hand turned, allowing us to precisely shape the bevel and round the tip
Caution: The rosewood used is very strong, but not as strong as metal, nor as flexible as plastic. Please keep this in mind, especially when considering long needles in the thinner sizes.
NOTE: I make the sizes #9, 10, 10.5 & 11 needles in Wild Cherry as well as the Rosewood. These needles will be the same price as the rosewood needles. The cherry is not as hard as the rosewood, but will be considerably lighter in weight. If you want the cherry in these sizes, be sure to specify.
I am also making sizes 6-11 in hard maple - harder than cherry, but a bit softer, and more flexible than rosewood. It is a very light, creamy color. Both of these are subject to availability - be SURE to check first. (Priced the same as rosewood)

LARGE SIZES 13-17
Large Size Cherry Knitting Needles are made of Wild Cherry, a domestic hardwood.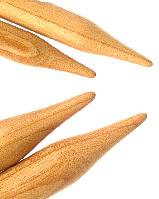 They are available in sizes 13 (9mm), 15 (10mm), 16 (11.5mm) & 17 (12.5mm) in 10, 12 & 14 inch lengths.
They are slightly more expensive than the thinner needles.
Cherry is considerably lighter in weight than the rosewood, which helps avoid "heavy needle" fatigue.
They will age to a deeper reddish-brown with time.


SIZING
Sizing equivilents: Sizing of knitting needles and crochet hooks is based on 1/4 millimeter increments. Both Boye and Bates use a similar sizing standard for Knitting Needles, but vary on Crochet Hook sizes. For your clarification (we hope), we have provided a Sizing Chart. Only the sizes marked with an "*" are available from Turn of the Century.
OTHER STUFF
Shawl Pins: These are 4 inch long hairsticks that are also used as shawl pins.
Crochet Hooks Highly functional hooks for the avid crocheter. Our main item since 1971.

PRICES:
Rosewood Knitting Needles(sizes 6-11): Prices vary according to length
10 inches long...$16.00 per pair
12 inches long...$17.00 per pair
14 inches long...$18.00 per pair

Large Cherry Knitting Needles(sizes 13-17): Prices vary according to length
10 inches long...$18.00 per pair
12 inches long...$19.00 per pair
14 inches long...$20.00 per pair

Be sure to specify both size and length
It would be wise to check on availabilty before ordering.

SHIPPING AND HANDLING FEE: (Priority mail - domestic) $7.00 per entire Turn of the Century order
(no matter how large or small the order).
Orders shipped within 1-2 days of receipt of payment.
Please send your complete mailing address and a day or night phone or e-mail, and...
Payment by check or money order to:
Turn of the Century
1676 Millsboro Road
Mansfield, OH 44906-3374
Phone 419/529-8876
-- For those using Paypal: Use the Paypal click logo at the bottom of the TC home page.
(Paypal ID: -- Bill@Turn-of-the-Century.com -- should fill in automatically.)
For more information on ordering, shipping and payment, see the Ordering Info Page

To e-mail us: Bill@Turn-of-the-Century.com
(If you have gmail, BE SURE to include your phone. Gmail throws my emails into your "spam" folder.)

Crochet Hooks * Knitting Needles * Sizing Chart
Rug Hooks * Embroidery Tools * Odds 'n' Ends
Hairsticks & Earrings * Writing Instruments
Links Page
"Who We Are" Page
Turn of the Century Home Page
Site Map and List of Gallery Pages


All Turn of the Century designs &copy copyright William Schmidt, Turn of the Century