Mechanical Pencil Gallery
The pencils shown may look like a whole lot of the same thing, but there are subtle differences in the tapers and curvatures of the grip as well as the pattern of the wood grain.
Some of the tapers are very thin, about the thickness of the matal tip. Those are marked with a "t" in both the pictures and the corresponding wood lists.
The pocket clips can be slid up or down to suit your preference.
The pictures are broken into groupings of about 20 or less to aid those with handheld devices. I hope this will make life easier for the more mobile folks.
To request specific pencils, request size (.5 or .7), tapered or flared, the number next to the pencil and the wood (eg. .5mm, tapered #5, cocobolo).
There is a link to an email form below all the pictures, right above the word "Prices".

We will hold items on reserve for one week pending payment.
In stock now:
The numbers on the pictures correspond to those on the wood list.
Reserved and sold pencils will be labeled as SOLD beside the wood identification. (updated 8/1/2020)
Please, DO NOT request pencils that have been labeled as SOLD.
This page was completely restocked on 8/1/2020.


.5 mm tapered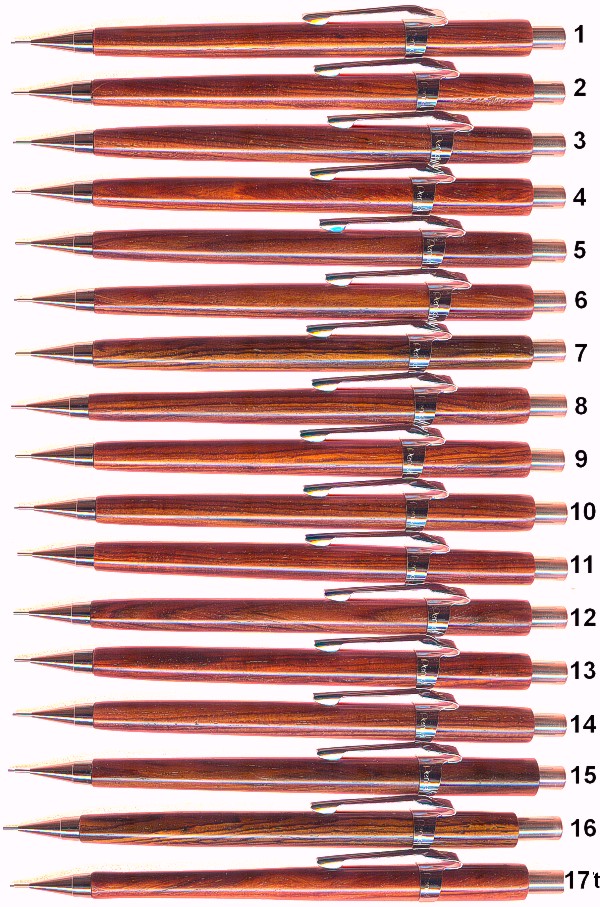 WOOD LIST:

1. Cocobolo

2. Cocobolo

3. Cocobolo

4. Cocobolo

5. Cocobolo

6. Cocobolo

7. Cocobolo

8. Cocobolo

9. Cocobolo

10. Cocobolo

11. Cocobolo

12. Cocobolo

13. Cocobolo

14. Cocobolo

15. Cocobolo

16. Cocobolo

17. Cocobolo-t


--------------------------------------------------------------------------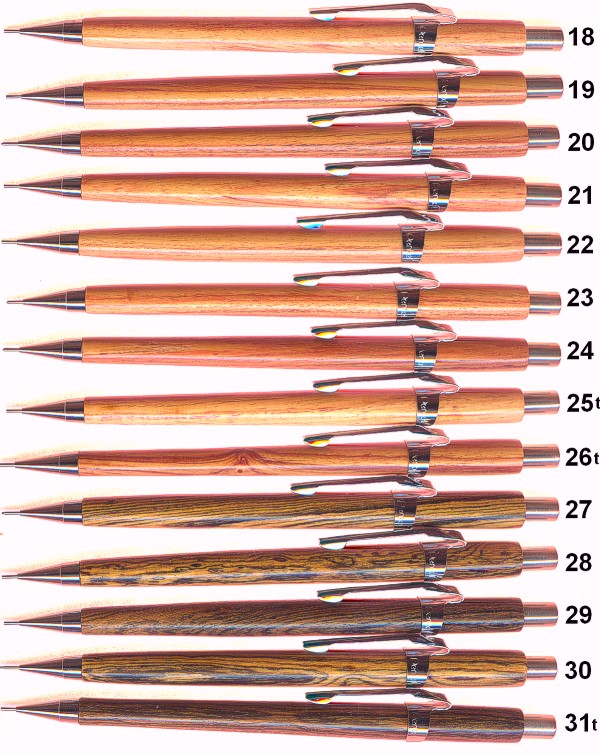 18. Brazilian Tulipwood

19. Brazilian Tulipwood

20. Brazilian Tulipwood

21. Brazilian Tulipwood

22. Brazilian Tulipwood

23. Brazilian Tulipwood

24. Brazilian Tulipwood

25. Brazilian Tulipwood-t

26. Brazilian Tulipwood-t

27. Bocote

28. Bocote

29. Bocote

30. Bocote

31. Bocote-t


--------------------------------------------------------------------------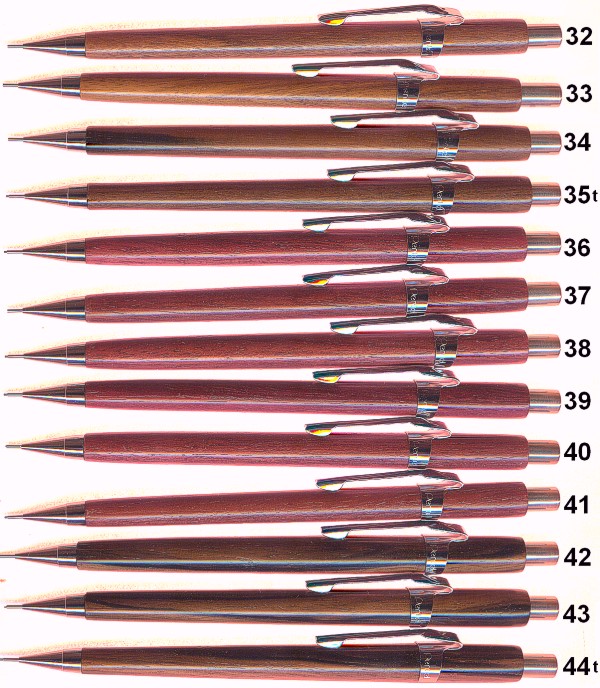 32. Caviuna Micarium

33. Caviuna Micarium

34. Caviuna Micarium

35. Caviuna Micarium-t

36. Purpleheart

37. Purpleheart

38. Purpleheart

39. Purpleheart

40. Purpleheart

41. Purpleheart

42. Macassar Ebony

43. Macassar Ebony

44. Macassar Ebony-t



.5 mm flared

Some have a flare above the end of the wood for those who hold their pencil higher up.
Those are in the lower part of the second picture.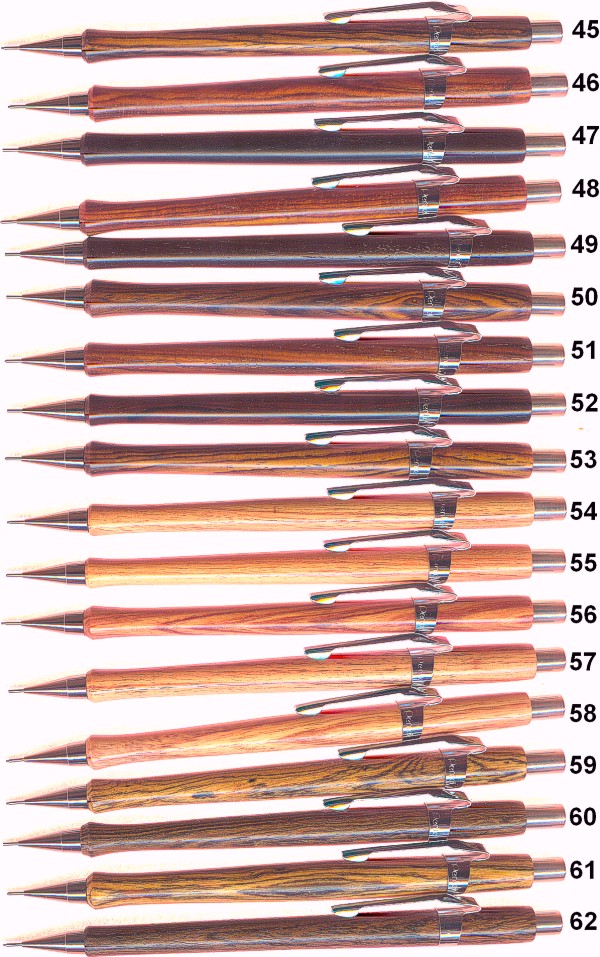 WOOD LIST:

45. Cocobolo

46. Cocobolo

47. Cocobolo

48. Cocobolo

49. Cocobolo

50. Cocobolo

51. Cocobolo

52. Cocobolo

53. Cocobolo

54. Brazilian Tulipwood

55. Brazilian Tulipwood

56. Brazilian Tulipwood

57. Brazilian Tulipwood

58. Brazilian Tulipwood

59. Bocote

60. Bocote

61. Bocote

62. Bocote


--------------------------------------------------------------------------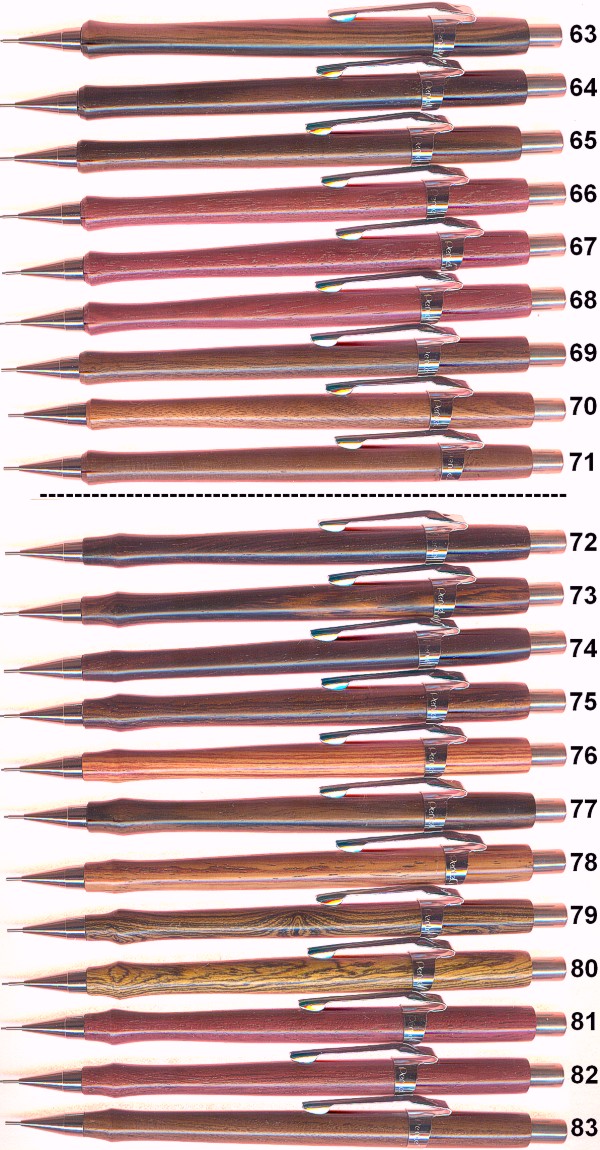 63. Macassar Ebony

44. Macassar Ebony

65. Macassar Ebony

66. Purpleheart

67. Purpleheart

68. Purpleheart

69. Caviuna Micarium

70. Caviuna Micarium

71. Caviuna Micarium


====================================
72. Cocobolo

73. Cocobolo

74. Cocobolo

75. Cocobolo

76. Brazilian Tulipwood


77. Macassar Ebony


78. Honduras Rosewood


79. Bocote

80. Bocote


81. Purpleheart

82. Purpleheart


83. Caviuna Micarium

========================================================================================

.7 mm Pencils

The tapered ones are in the top picture, the flared ones in the bottom one.
The ones at the very bottom have a flare above the end of the wood for those who hold their pencil higher up.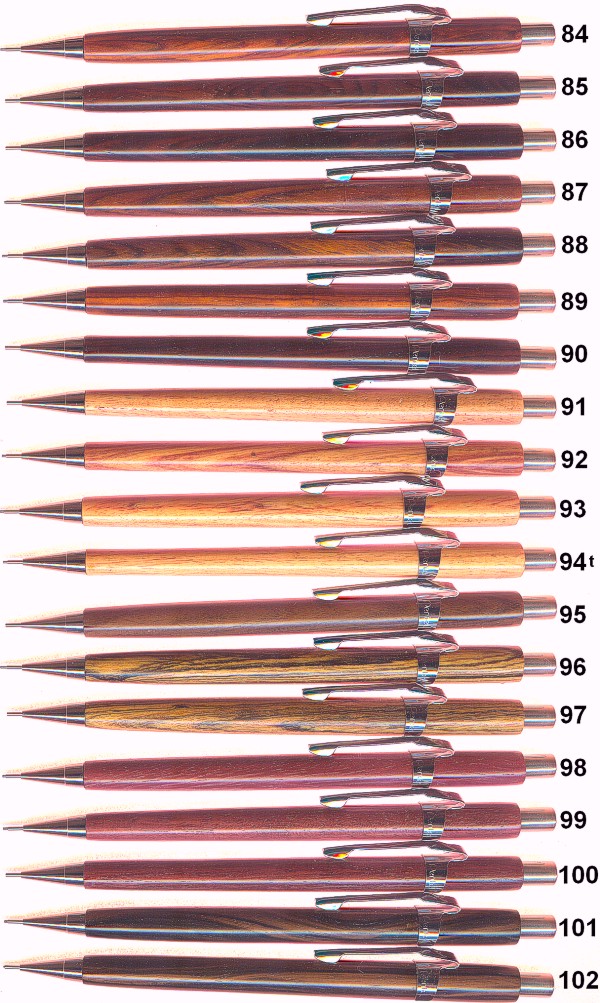 WOOD LIST:

84. Cocobolo

85. Cocobolo

86. Cocobolo

87. Cocobolo

88. Cocobolo

89. Cocobolo

90. Cocobolo

91. Brazilian Tulipwood

92. Brazilian Tulipwood

93. Brazilian Tulipwood

94. Brazilian Tulipwood -t

95. Caviuna Micarium

96. Bocote

97. Bocote

98. Purpleheart

99. Purpleheart

100. Purpleheart

101. Macassar Ebony

102. Macassar Ebony


--------------------------------------------------------------------------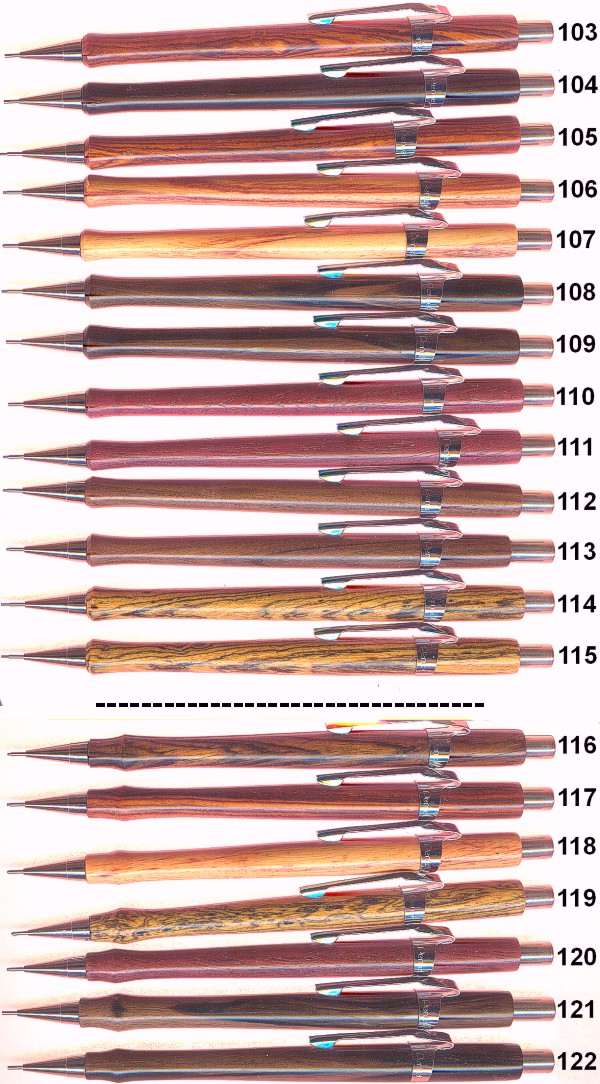 103. Cocobolo

104. Cocobolo

105. Cocobolo

106. Brazilian Tulipwood

107. Brazilian Tulipwood


108. Macassar Ebony

109. Macassar Ebony

110. Purpleheart

111. Purpleheart

112. Caviuna Micarium

113. Caviuna Micarium


114. Bocote

115. Bocote


====================


116. Cocobolo

117. Cocobolo


118. Brazilian Tulipwood


119. Bocote


120. Purpleheart


121. Macassar Ebony

122. Macassar Ebony


Please e-mail to check size/wood availability before ordering: Bill@Turn-of-the-Century.com
(If you have gmail, BE SURE to include your phone. Gmail throws my emails into your "spam" folder.)

Prices:
Pencils: $16.00 each
Shipping and handling: (Priority mail - domestic) $7.00 per entire Turn of the Century order

Please send your complete mailing address and a day or night phone or e-mail, and...
If paying by check or money order to:

Turn of the Century
1676 Millsboro Road
Mansfield, OH 44906-3374
Phone 419/529-8876

-- For those using Paypal: Use the Paypal click logo at the bottom of the TC home page or on the Ordering Info Page.
(Paypal ID: -- Bill@Turn-of-the-Century.com -- should fill in automatically.

For more information on ordering, shipping and payment, see the Ordering Info Page


Main Pen & Pencil Page
Turn of the Century Home Page

All Turn of the Century designs &copy copyright William Schmidt, Turn of the Century